To what extent will natural ingredient lipsticks be the future main trend of Chinese market?
天然成分口红在多大程度上会成为中国市场的主要趋势?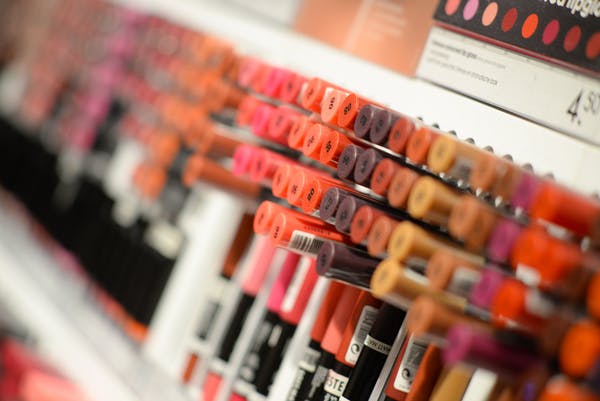 研究概述
该研究的目的是找出天然口红在多大程度上是化妆品行业的未来。文献研究包括了对非天然口红成分的探索,并评估其安全价值,并找到可替代的天然成分。二手调研表明,在拥有适当资源的普通实验室,就可以创造出和普通口红一样的天然口红。研究还面向14-17岁的青年人发出了问卷,调查天然口红的看法。结果表明,大多数人并不关心口红成分,但他们认为天然口红更安全,并愿意购买,即使它们更昂贵。
作者Author:刘佳琳 Jialin Liu
Abstract:
The aim of this dissertation was to find out the extent to which natural lipsticks were the future of the cosmetics industry. I analysed individual's ideas surrounding natural ingredient lipsticks by sending out questionnaires to 14 to 17-year olds. The 46 responses I received back suggested that most of people never concern ingredients in lipstick but they do think natural lipsticks are safer and are willing to buy them even if they are more expensive.
By conducting secondary research, I explored ingredients in non-natural lipsticks and evaluate their safety value and possible natural replacement or harmful ingredients. This research showed in a common lab with appropriate resources can create organic lipstick that satisfied every quality of a normal lipstick.
Lastly, I was able to compare natural and non-natural lipsticks by their costs which showed they have no big difference.
Introduction:
The cosmetic industry is one of the biggest, and the fastest selling products are lipsticks (Dash et al, 2017). However, on average, a woman may swallow about 5 pounds of lipstick in her life. The objective of this dissertation is to explore the effect of lipsticks with different ingredients in it and highlight the advantages of natural ingredient lipsticks and analyze individuals' ideas surrounding natural ingredient lipsticks. This will therefore aim to also predict the future trend of the natural ingredient market and provide a useful analysis for cosmetic companies to improve their market.
Literature review:
The analysis of lipstick ingredient: natural ingredient vs. non-natural ingredients
Toxic Beauty! Are Cosmetics Harmful to our Health? Wrote by Mazumdar and Goswami (2016) discussed the lead concentration in various lipsticks colours and whether this concentration is safer for human uses acceptable limit of lead in candy as a standard. The most convincible part is the result of the experiment indicating some high luxury bands contain level of lead ranging from 2 to 9 μg/gm that is 20-90 times higher than the USKDA guideline value of 0.1 μg/gm for lead in candy.Therefore, this article shows that lipsticks are harmful to our health and can be used for future study.
The article FORMULATION AND EVALUATION OF LIPSTICKS CONTAINING NATURAL INGREDIENTS wrote by Gouri Kumar Dash, Nur Anis Amira Mohd Anas and Shahnaz Majeed Faculty discuss an experiment about natural lipsticks (2017). This essay shows that organic lipsticks are easy to make and can act as a replacement of normal lipsticks.
Ingredients in natural lipsticks:
For natural lipsticks, a table is present. (Sunil, Tailor and Asutosh, 2013)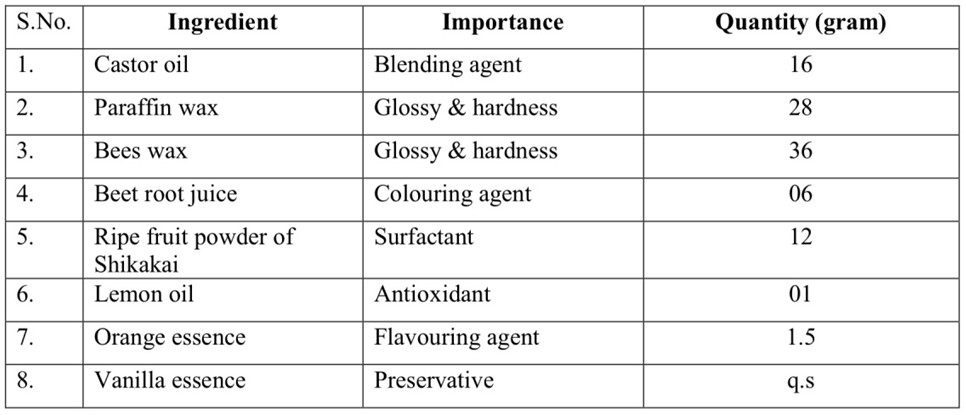 This article shows that the natural ingredient lipstick created can satisfy every character of a lipstick and has more advantages. First, natural lipsticks are hypoallergenic and proven by dermatologists to be safe to use anytime, anywhere. (Kumar et al, 2016). Second, the price of manufacture organic lipsticks is only slightly more expensive than normal lipsticks. For example, Karen Murrell, which is a brand that claims it sells natural ingredient lipsticks, sells 32 dollars, while the MAC lipstick sells 22 dollars. However, as mentioned before, 10 dollar's difference may seem small for some people; it may be a big gap for others and affect their choice.
Current problems of normal lipsticks:
A potential factor causes chapped lips (Cheilitis) is wearing lipsticks for a long time. It is more common that lipsticks can be swallowed by people who applied. Heavy metal, especially lead present in lipsticks may cause acute abdominal pain (Shabani et al, 2020) if eaten by people.
A solution of problems mentioned is organic lipsticks as it can reduce the stimulation of chemicals significantly. Also, it is unlikely for organic lipsticks to contain heavy mental in it since they often present in lipsticks as an impurity of manufacture.
However, from all those articles I had read, the colour of natural ingredient lipsticks are limited. To find out the effect of this, in my methodology, I tried to find people's opinion of colour of lipsticks in advertisement.
Methodology:
To investigate people's idea of natural lipstick, questionnaires were sent out to girls whose age was around 14-17. 46 of result were collected. The questionnaire is shown in appendix and results are shown below.
Besides the questionnaire, I also did an interview with 4 girls. The questions are listed below.
1.What kind of lipstick would promote you to buy?
2.What kind of problems do you think exist in the current lipstick market?
3.What kind of advertisement would make you want to buy the lipsticks?
The interview I did was necessary as no one had done such thing before me.
Results:
From the questionnaire, conclusion could be made that:
(1)Most people do not concern about ingredients in lipsticks.
(2)As a result of it people do not specifically choose organic lipsticks.
(3)People do not know about diseases caused by lipsticks.
(4)People think that organic lipsticks are safer and are willing to buy it even it is more expensive.
From this result, we can deduced that if lipstick firms can prove that organic lipsticks are safer than normal lipsticks, even if they are little more expensive than normal ones.
From the interview, I found 4 points that people mentioned a few times about:
(1)Packaging
(2)Limited edition
(3)Color and
(4)Celebrities
As a result, I believe if organic lipstick companies could focus on those 4 points, their sell may be promoted.
Conclusion:
The present study suggest that natural ingredient lipsticks are capable to function as normal lipsticks. Although the price of it is little bite more expensive but the questionnaire shows people are willing to buy if they are safer. As a result of this, I
believe that natural ingredient lipstick will be the future main trend of Chinese market. With the interview I have done, people suggest that: beautiful package and promotions from celebrities can attract them to buy lipsticks. They say that limited editions are always attractive to them. As a result, I suggest companies produce organic lipsticks with attractive package, use celebrities in their advertisement and produce limited editions.