都说好的文书可以极大程度的影响申请结果,尤其是冲刺美国前十、大藤、英国牛剑等顶尖院校,更离不开一份引人入胜的文书。
暑假即将来临,最近我们收到许多同学诉苦:正在为文书发愁,有的人活动一堆却不知如何选择,有人苦恼于寥寥可数的活动,不知如何落笔
藤校康奈尔大学在官网为大家提供了两个文书非常实用的建议

💡 仔细思考文书题目的含义,不要试图写你认为我们所想听到的答案,而是告诉我们你自己的观点。
💡 在你的文书中,重要的是让我们理解你的真实想法和感受。我们对你所选择主题、你的个人想法以及你如何展示自己有着强烈的兴趣。
如果你还没有想法,不如参考一下那些成功爬藤的优秀文书都怎么写的吧。
我和身边大多数的同龄人的爱好不太一样,为了让我不落单,我开始试着去了解别人感兴趣的事情,赶上他们的节奏,加入他们的话题。事实证明,不是每个人都拥有着同一频率。努力融入群体的我,不但没有让我更快乐,反而凸显出更强烈的孤独感。
于是,我开始和Alice一样,脱离这个频率的族群,回归到自己,在属于自己的海洋中畅游:
热爱教育,利用假期来到云南支教,走进孩子的世界,倾听他们的声音;
喜欢摄影,用心去感受自然万物的声响,自学PS,记录下我眼中的世界;
喜欢乒乓球,所以从小学习,感受跳动的节奏,并坚持至今......
在一次次坚守本心的追逐中,不仅清晰了自己的申请目标,也在为着自己目标前进的路途中结交了志同道合的"鲸鱼"们。
——Jennifer的自我探索历程
Jennifer在文书中不仅体现了她的独立、坚持,每一步的改变都能让大家感受到她的真诚和对自己所爱目标的热情,这也正好和康奈尔大学官方给的建议不谋而合。
前段时间,哈佛大学、约翰霍普金斯大学、埃默里大学也纷纷发布了2025届录取学生的优秀文书,并做出了官方的点评,一起看看招生官们眼中的好文书需要具备什么要素。
哈佛大学

▼滑动查看全文▼
I hate the letter S. Of the 164,777 words with S, I only grapple with one.
I hate the letter "S". Of the 164,777 words with "S", I only grapple with one. To condemn an entire letter because of its use 0.0006% of the time sounds statistically absurd, but that one case changed 100% of my life. I used to have two parents, but now I have one, and the "S" in "parents" isn't going anywhere.
"S" follows me. I can't get through a day without being reminded that while my friends went out to dinner with their parents, I ate with my parent. As I write this essay, there is a blue line under the word "parent" telling me to check my grammar; even Grammarly assumes that I should have parents, but cancer doesn't listen to edit suggestions. I won't claim that my situation is as unique as 1 in 164,777, but it is still an exception to the rule - an outlier. The world isn't meant for this special case.
The world wouldn't abandon "S" because of me, so I tried to abandon "S". I could get away from "S" if I stayed busy; you can't have dinner with your "parent" (thanks again, Grammarly) if you're too busy to have family dinner. Any spare time that I had, I filled. I became known as the "busy kid"- the one that everyone always asks, "How do you have time?" Morning meetings, classes, after school meetings, volleyball practice, dance class, rehearsal in Boston, homework, sleep, repeat. Though my specific schedule has changed over time, the busyness has not. I couldn't fill the loss that "S" left in my life, but I could at least make sure I didn't have to think about it. There were so many things in my life that I couldn't control, so I controlled what I could- my schedule. I never succumbed to the stress of potentially over-committing. I thrived. It became a challenge to juggle it all, but I'd soon find a rhythm. But rhythm wasn't what I wanted. Rhythm may not have an "S", but "S" sure liked to come by when I was idle. So, I added another ball, and another, and another. Soon I noticed that the same "color" balls kept falling into my hands- theater, academics, politics. I began to want to come into contact with these more and more, so I further narrowed the scope of my color wheel and increased the shades of my primary colors.
Life became easier to juggle, but for the first time, I didn't add another ball. I found my rhythm, and I embraced it. I stopped running away from a single "S" and began chasing a double "S"- passion. Passion has given me purpose. I was shackled to "S" as I tried to escape the confines of the traditional familial structure. No matter how far I ran, "S" stayed behind me because I kept looking back. I've finally learned to move forward instead of away, and it is liberating. "S" got me moving, but it hasn't kept me going.
I wish I could end here, triumphant and basking in my new inspiration, but life is more convoluted. Motivation is a double edged sword; it keeps me facing forward, but it also keeps me from having to look back. I want to claim that I showed courage in being able to turn from "S", but I cannot. Motivation is what keeps "S" at bay. I am not perfectly healed, but I am perfect at navigating the best way to heal me. I don't seek out sadness, so "S" must stay on the sidelines, and until I am completely ready, motivation is more than enough for me.
💬 招生官点评
Abigail的文章探讨了大学申请中最微妙的主题之一:处理个人或家庭悲剧。这个话题最常见的陷阱是把一个悲惨的事件表述的过度充满悲哀和失落感,以至于除了失落本身之外,无法体现出作者自己的个性。然而,Abigail的文书巧妙地绕过了这一点,巧妙地使用字母"S",以一种引人入胜且发人深省的方式分享了一段深刻的个人旅程。
虽然"不完整"的家庭困扰着她,但她并没有沉溺于悲伤中,而是反思了她的生活和她必须做出的调整:她用自己的兴趣爱好,去尝试拥抱"SS"。我们看到了她心路历程的变化,并且欣慰于她的成长。
在文章最后,她坦然承认"生活是更加复杂"是令大家印象深刻的。我们看到了超脱她年纪的"现实主义"和成熟感,在为她的故事动容的同时,也更加期待她未来的发展。
约翰霍普金斯大学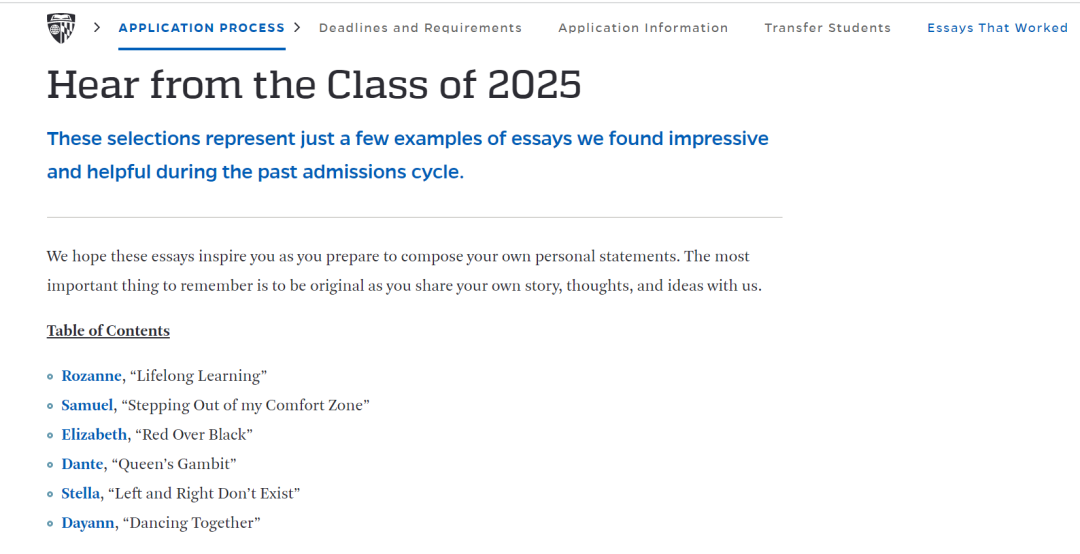 ▼滑动查看全文▼
Lifelong Learning
The white yarn slipped off my aluminium crochet hook, adding a single crochet to rows and rows of existing stitches, that looked to be in the form of a blob. Staring at the image of the little unicorn amigurumi lit up on the screen of my laptop, and looking back at the UMO (unidentified messy object) number five, I was extremely perplexed.
This had seemed so easy. Round 1, construct a magic circle with 6 single crochets. Done. Round 2 was an increase round resulting in a total of 12 stitches. Also done. The remaining rounds were blurred into hours and minutes that should have resulted in a little white creature in the likeness of a unicorn, but sitting on my desk (much like the four days before today) was a pool of tangled white yarn. It was not until day seven that a creature with a lopsided head whose horn was the only identifier of the mythical being emerged.
Very much like learning how to crochet, my journey in forging my own path and finding a passion was confusing, messy and at times infuriating. Even in primary school, I had heard all the stories of individuals finding their own route in life. I had been told stories of those who found their passion at a young age and were exceptionally proficient at their craft, of those that abandoned their interests and pursued a lucrative career, even those who chose their dreams but regretted it afterwards. This weighed heavily on me, as I was determined to have a success story as many of my other family members had. The only problem was that I did not have a direction.
In the years following primary school, I stepped out of my comfort zone in a frenzy to find a passion. I joined the school orchestra where I played the violin, and a debate class to practice public speaking and become much more eloquent. At my ballet school, I branched out to contemporary and jazz dance. I stuffed myself with experience similar to an amigurumi engorged with batting. I found myself enjoying all of those activities but soon enough, I was swamped with extracurriculars. Just like the tangles of white yarn on my desk, I was pulled in all directions. I still felt lost. To make things worse, it seemed as if everyone else had found their path in life, and they had all become white unicorns while I was still doubting the stitch I just made.
It was not until high school that I realised that I could view this mission to find a passion from another perspective. While successfully completing a crochet project is an accomplishment itself, the motions of making slip knots, single or double crochets takes you on an adventure as well. The knots that I had encountered in my craft were evidence of my experiences and what shaped me as an individual. My exploration of various paths through detours may have sometimes resulted in roadblocks, but I continued to persevere and learn from my experiences, applying the skills that I have gained to future knots. The mini adventures that I went on were all crucial to me in the greater journey of life.
Through trial and error, the current adventure that I am on resonates the most with me, taking me down the path of service and environmental activism. However, I have learnt that no one path is static, and I can be on more than one path at a time. While I may only be halfway to the proportionate unicorn amigurumi that some others may have already achieved, I still have so much to learn and so much that I want to learn, and so my journey to grow continues.
💬 招生官点评
Rozanne的文书中展示了她如何发展钩针编织这一爱好,以及如何发掘自己人生的激情所在,反映出了投入必要的努力和时间后,总会有意义非凡的收获。
在文书中还写到了舞蹈、环保活动等等对她的影响,不仅是展示了她多面性,更是让我们看到她是一个能利用把握机会,去用自己的能力推动社会发展,是一个愿意走出舒适区并且不断反思进取的人。而我们的招生中,也希望找到能够为JHU社区做贡献的学生。
埃默里大学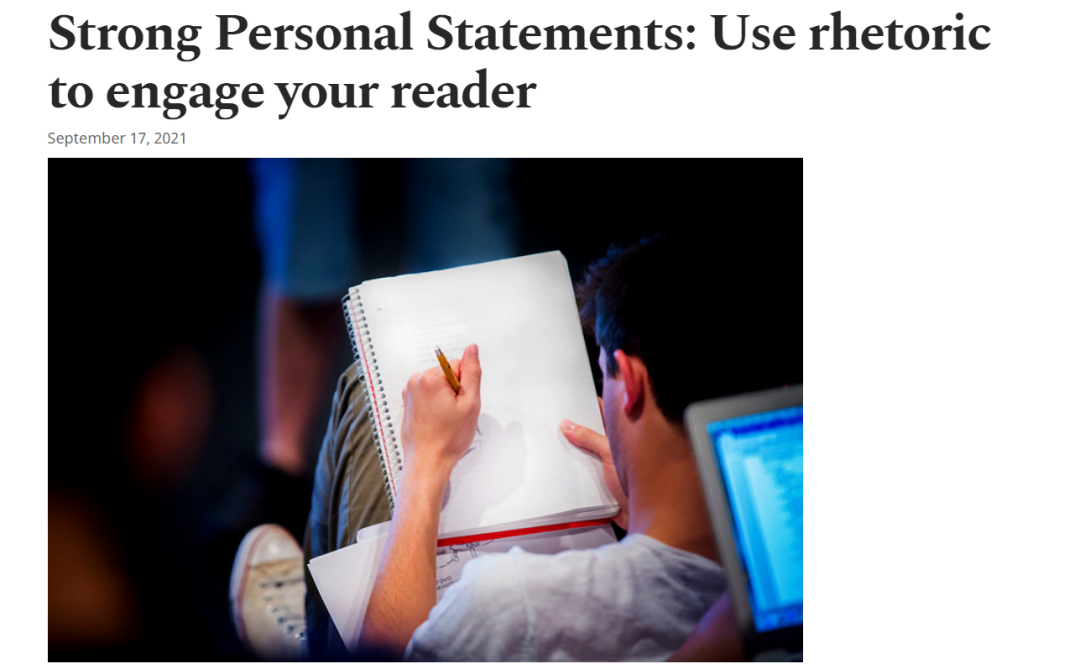 ▼滑动查看全文▼
Tell a story from your life, describing an experience that either demonstrates your character or helped to shape it.
"How prone to doubt, how cautious are the wise!"
-Homer
"D'oh!"
-Homer Simpson
I'm not a philosopher; eloquence eludes me, the meaning of life is unquestioned, and thinking, beyond what is required to carry out a potential, is postponed to a more leisurely time. I've experienced doubt, and proceeded with caution; and in my experience, I've learned to discard unnecessary thought and conventional wisdom in favor of progress. Philosophy amounts to nothing unless it results in action.
"You're kidding." Scanning my schedule, my classmate shakes her head. "Why didn't you take Dual Credit?" During Junior year, my high school began to incentivize Dual Credit courses with a GPA multiplier. Advertised to be less demanding than an AP class, Dual Credit was extolled as the wise man's curriculum. So, mustering all the wisdom I had, I took 6 AP classes, and frankly, I enjoyed their depth. When it comes to education, I'm not cautious – and I'm prone to doubt. I just act. If I want chemistry, then I get chemistry; if I'm intrigued by psychology, then I pursue psychology. There is no point in pondering the inevitable; I am determined to take educational opportunities. I'll judge the difficulty for myself after I complete it.
The practice of prioritizing action has proved useful in my pursuits. In ninth grade, I could have doubted my capability; instead I ran for office in the school's health club and earned a position in the eleventh grade. That year, there was a debate amongst the members over meeting schedules: if the Technology Students Association meeting coincided with ours, how would we attract new members? As the club officers weighed the costs and benefits amongst themselves, I left the meeting and signed up for the technology club, discussed an agreement, and voted for the technology club to move its meetings to the second half of lunch before scheduling the Health club meetings for the first half. Did it require thinking? No. Eloquence? Hardly. Contrary to the anticipated speeches and club-based patriotism, it only took clear action and a request to solve the conflict. Attendance increased, and as a bonus, I enjoyed a continued membership with both organizations.
Beyond the sphere of public education, doubt-free determination facilitated my impact in the community. I am seventeen; I cannot vote in the upcoming elections. However, that does not mean I will hesitate to make a mark with my city. Small actions, from teaching addition to a church member's kindergartener to tutoring three classmates for the SAT, matter in the long run. Can a teenage end world hunger? Doubtful; but by pulling weeds from the community garden, I can further progress one step at a time.
Not all actions end successfully. However, between cautious wisdom and failure, I choose action. I don't fancy myself as wise; I'm not prone to doubt, nor am I perpetually cautious. I simply pursue my goal. As the wiser Homer has taught America, when torn between success and potential peril, one must simply "D'oh."
💬 招生官点评
在这篇文书中,共有三个关键主题贯穿其中。
第一,学习方法应该是积极的、深思熟虑的、具有反思的。在文章开篇,作者表达了学习的热情应该集中于课程材料的本质上,并且他还表达了跨学科学习的开放性和学习不同学科的根本所在。
第二,是利用知识进行变革。作者在文中表明了自己想要去改善社区的个人意愿,虽然仅仅是针对小小社区,但由小见大,我们能看到她作为一个社会公民所具有的社会责任感。
第三,整篇文章中你能清晰地感受到作者具有不服输的冒险精神,这是令人振奋的。这也表明,他已经做好准备进入埃默里大学学习。
总结下来,通过他的文书,我们更全面地了解这个学生,而更重要的是,我们看到了他的个人品质是和埃默里大学的使命和社区价值观完美契合的。